The Cheadle Center for Biodiversity and Ecological Restoration (CCBER) fulfills the University's mission of research, education, and public service through stewardship and restoration of campus lands, preservation and management of natural history collections, and through learning experiences and programs, which offer unique opportunities for students of all ages.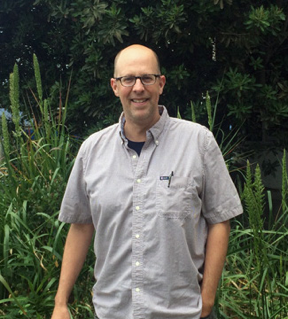 It has been an exciting year at CCBER. The North Campus Open Space has broken ground and we are transforming 160 acres back into a wetland for wildlife, research and for the public to enjoy. We are also very pleased to introduce our new staff member, systematic botanist Gregory Wahlert, Ph.D., as CCBER's new Dr. Shirley Tucker Collection Manager and Research Botanist. Greg comes to CCBER from Santa Rosa in Northern California's Sonoma County, and discovered his fascination with taxonomy and the natural world while earning his Environmental Science merit badge for the Boy Scouts. After high school, Greg worked as a rare plant preserve steward near his home, overseeing the conservation of a rare Ceanothus and manzanita plants. He received his undergraduate degree in Botany from Humboldt State University and a M.Sc. from San Francisco State University, studying the evolution of California's manzanitas. His Ph.D. is on the systematics of tree violets in Madagascar from Ohio University. Greg's position continues to be supported by the generosity and vision of Dr. Shirley Tucker. We are very grateful for her continued commitment to CCBER, and our ever-growing herbarium and enthusiasm for botanical research.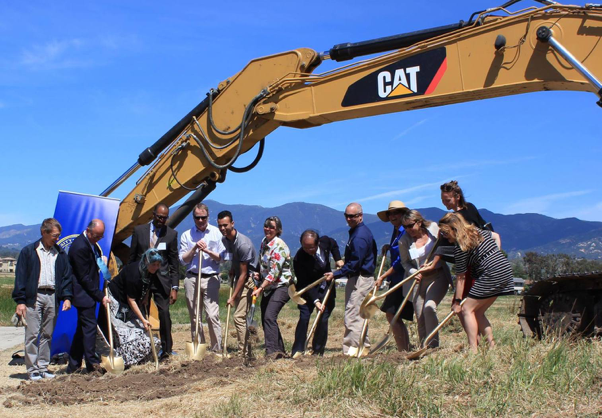 Dr. Lisa Stratton has led the effort to raise more than $15 million dollars for the North Campus Open Space Project that broke ground in April. The excavation of the upper arm of Devereux Slough is now complete, planting has begun, and the new pedestrian trails will be installed soon. Things are happening very quickly. This has truly been a campus wide effort, with support and encouragement from the Office of the Chancellor and from entities throughout UCSB. CCBER continues to play a principal role in the planning and fundraising efforts for the NCOS project, in collaboration with many campus partners including our financial administrators at the Earth Research Institute; the North Campus Open Space Science Advisory Committee, which is composed of faculty from ERI, EEMB, Earth Science and the Bren School; Facilities Management Design and Construction Services; and the Offices of Research, Budget and Planning; and Development. CCBER greatly appreciates Professor Emeritus Duncan Mellichamp and Suzanne Mellichamp for their leadership and generosity to NCOS. A great way to keep in touch with the progress, become involved, and learn about all of our partners is though the newsletter NCOS News.
One of our central roles is to provide curation and research support for the UCSB Natural History Collections. These collections continue to grow, are engaged by researchers nationally and internationally, and provide extensive research and educational experiences for UCSB undergraduates. This year, 30 interns and volunteers participated in the research and maintenance of our natural history collections. Professor Samuel Sweet (EEMB), Professor Emeritus, Professor David Chapman (EEMB) and Dr. Katja Seltmann offered the Curation of Natural History Collections course. This unique course provides critical training in natural history museum curation. The digital plant collection information that we have made available through the internet has been downloaded more than 2 million times through the Consortium of California Herbaria, and over 20 researchers from UCSB, Loma Linda University, Universidade de Brasilia, Cornell University, University of Georgia, Harvard University, and the Natural History Museum of Los Angeles County have used the collection during the fiscal year 2016-2017. This year we were also supported by a generous grant from the Institute of Museum and Library Services to curate and preserve our Invertebrate Zoology Collection. This collection, started by rescuing the historic teaching collection of Dr. Adrian Wenner, has grown to nearly 20,000 specimens from California based research and our partnership with the UCSB Natural Reserve System.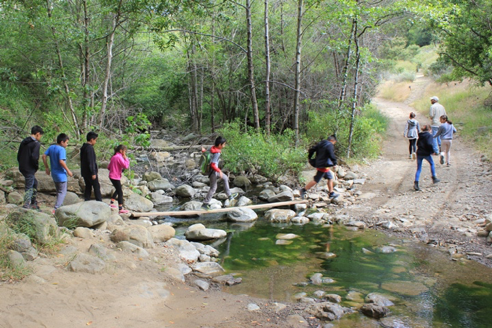 We completed our 17th year of the Kids in Nature program due to the support of the Executive Vice Chancellor's office, the Mosher Foundation, Coastal Conservancy, Office of Academic Preparation (Faculty Outreach Grants), Departments of Environmental Studies and Ecology, Evolution and Marine Biology and the Coastal Fund. We are very thankful to Dr. Sue Johnson, Gevirtz School of Education, who served as the Faculty Advisor for KIN at the end of 2017. The CCBER Kids in Nature (KIN) program promotes the aspirations and achievements of young students in local underserved schools by providing quality environmental science education. KIN staff and UCSB students work closely with fifth graders to provide an in-depth educational experience. The UCSB students assisting with KIN are enrolled in an undergraduate course offered through the Environmental Studies and Ecology, Evolution and Marine Biology departments.
A Director's Council was established in 2014 with the goal of supporting, promoting, and guiding CCBER, and to serve as connection between the CCBER and the community at large. The Council continues to meet on a regular basis. Many members of the Director's Council have made generous gifts to CCBER's operations including the Natural History Collections, Kids in Nature, North Campus Open Space, and our endowment campaign.
We are continually grateful for the benefit of collaborative efforts through the North Campus Open Space Scientific Advisory Committee, the Director's Council, CCBER Advisory Committee, and our natural history collection curators and CCBER affiliates.  Both the Executive Vice Chancellor's office and Office of Research have generously supported CCBER programs.  Over the course of the next year, we look forward to continuing these great programs, to fostering unique research experiences for students, and to continuing our stewardship of campus lands.
Please help us continue our great work by donating to the Cheadle Center for Biodiversity and Ecological Restoration this year. You can make a difference in the education of our next generation and in the preservation of our natural world.
Date:
Wednesday, December 20, 2017 - 12:15